LSI stands for Latent Semantic Indexing. One of the most important elements in quality content is the extent to which it contains LSI keywords. In order for any SEO campaign to succeed through content marketing, it must understand and implement a strategy which emphasizes on the use of Latent Semantic Indexing.Here question is how to find LSI keywords  these are the following ways in which we can find LSI keywords which would help you rank your website better.
Google Ad Words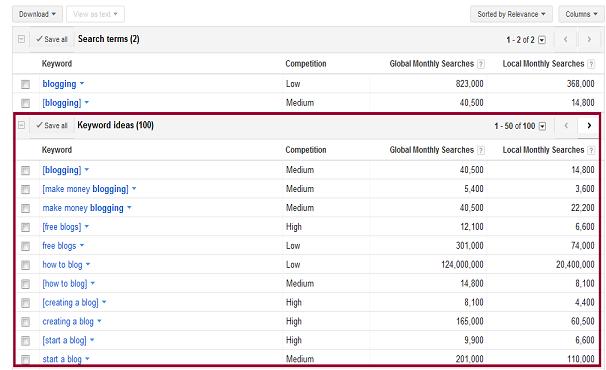 Google Ad Words is considered a tool only used for placing advertisements and finding the cost behind bids. However, many smart SEOs use this tool to their advantage by finding highly relevant LSI keywords and gain organic search results. In order to use Google Ad Words for LSI keyword search, just log into your Google Ad Words account if you haven't signed up already and go to "keyword ideas". The keywords shown in "keyword ideas" are LSI or latent semantic indexing keywords. Once you start using this tool you would understand how it works for your SEO campaigns and with practice you will start getting better search results.
Search Engine Suggestions – Instant Search
Google instant search is another tool which a lot of prospective SEO experts know nothing about. In order to take benefits of this keyword just go to Google.com and type a keyword. As soon as you have typed the keyword, you will start seeing other suggestions relevant to that keyword. All these additional keywords are the LSIs that you can note down or take print screen of to use for other purposes. The best way to start is by typing the main keyword that is related to your search. Let us do a quick search for our main keyword. Once the keyword "blogging tips" is typed in Google, it shows "blogging tips" and below it other LSI keywords which are shown in the diagram below.
All these keywords including "blogging tips and tricks", "blogging tips for beginners", and "blogging tips 2015" are suggestions for LSI which can be incorporated into your SEO search in order to gain maximum leverage.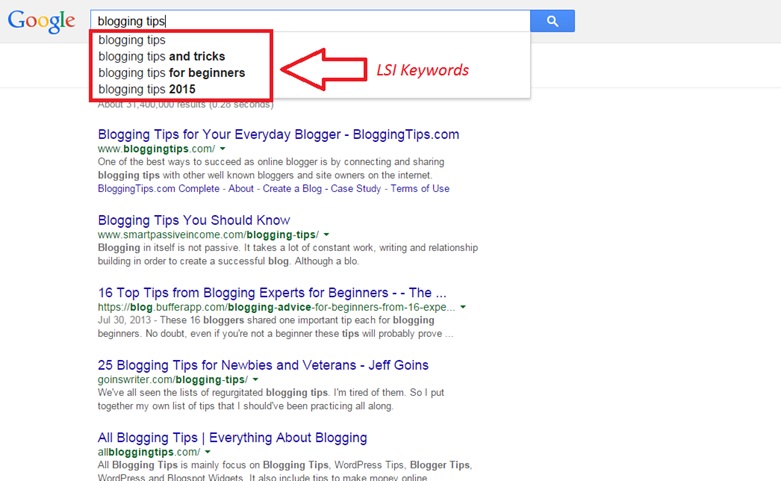 LSI Keyword Suggestions by Search Engines Below

One of the other useful yet less followed up ways of finding LSI keyword suggestions is by looking at the bottom after every search. Google places LSI keywords below to help the searchers find the relevant information. These important tipping keywords are also helpful for the marketers who are always trying to find new and more useful ideas that can be applied to enhance their search. And the numbers of LSI keywords shared below are more than the ones shared in the instant search usually because of the space issues. As more and more internet users are opting for mobile devices, Google like any other website has to be very smart about the space that it uses.
Important Things to Remember
Keyword Density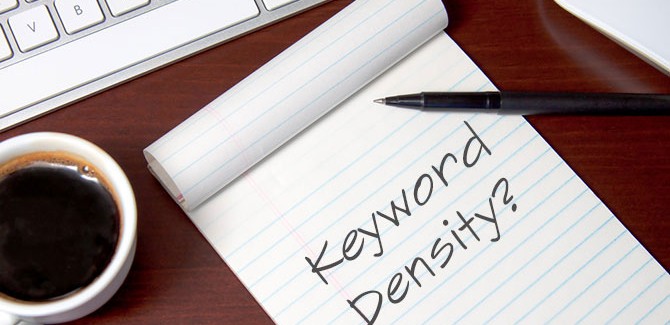 The first and foremost important thing to keep in mind is that Google does not go well with high keyword density. The dropped keyword density ratio was 2% but the new and revised percentage suggests maintaining 1% keyword density. If we go below that density obviously it would make life of Google very difficult, hampering its understanding of the main LSI keyword used.
Uniqueness
In order to remain top of your game in SEO, you need to make sure that the content provided is unique and not just a rewrite of something that has already been written hundreds or thousands of times before.
Informational Value
Lastly, just searching the LSI keywords and using them in the content is of no use if the content that you write adds no value for the user. Ultimately user experience will come into play and if users cannot stick to your website content, you should revise your content strategy.