Some internet marketers and website owners might not think seriously about website page authority. But believe it that once established repute with solid website page authority, even a content with poor grammar or least effective content will show up high in search engine rankings.
Tips for Website page authority
Strong SEO
Before considering your website page Authority, you should first emphasize on your site SEO.The first step in order to improve your website's Authority is to work on and improve both Off Site and on site SEO. Optimizing the site SEO is the foundation of Domain Authority improvement. So take a look at the Headers tags, Image Alt Tags, proper titles, Keyword, Meta tags, site structure & organization, Navigation and all other aspect of the on and off site SEO.
Frequent Updates
Updating your website with fresh and engaging content can really improve your site Page Authority. You have to make sure to update your site at least once or twice in a week. This will make people to come back to your site with social media, bookmarks, email campaigns and gradually search engines. Never stop writing fresh content, as we this world has enough quality readers who come and spend little time on our websites.
Influence the Metric Manually
You have to influence the metric manually because this will create sticky back links and avoid Footprint. If you try to use a Bot, you can be sure that your back links will be removed later. Even though a Bot might enable you to create lots of back links fast and easily, you will lose them at the end. This means that your works will be useless. Unless you want your back links to be removed, you should do everything one by one manually.
Good Internal Backlink Structure
Your website should always have a deep inter linking structure, which you have to closely monitor every week. Identify the high authority pages within your website, and make sure to use them on fresh/newly built pages. This will boost your website traffic as internal linking works amazingly most of the times. Make sure your website doesn't contain more than 3 layer linking system, as too many internal links might not help the website to rank better in Google.
You can use any Ahrefs.com, open site explorer or majestic SEO to find the top authority pages within your website. You should also add your most popular and targeted landing pages on the website home page to get the maximum website page authority.
Regularly Remove Spammy Backlinks
Well after Google Panda and Penguin updates in Search engine algorithm, the SEO of backlinking is totally change. Now getting backlinks may harm your site SEO instead of boosting it. While trying to get quality backlinks from high PageRank high website page authority sites, don't forget to remove the toxic spammy links that you'd made. Go through your backlink profile to search for spammy link and then use Google Disavow tool to get rid of those spammy bad backlinks. Hard to do but crucial if you want High Authority.
Social Media Engagement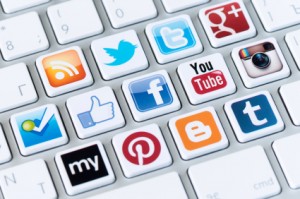 Using social media, you can increase your brand awareness, trust, traffic, relationships and authority. Some recent metrics proved that the page authority of a website can be improved with organic social media engagement. You should find people who are interested in your content and make them to share your website/pages organically. This is possible with by writing good content, sharing others articles/pages, engaging people with comments and interactions.